A beautiful kitchen remodel for a young and lively family.
Style: Midcentury Modern / Size: 3,120 square foot home (290 sqm), 570 square foot renovation (53 sqm)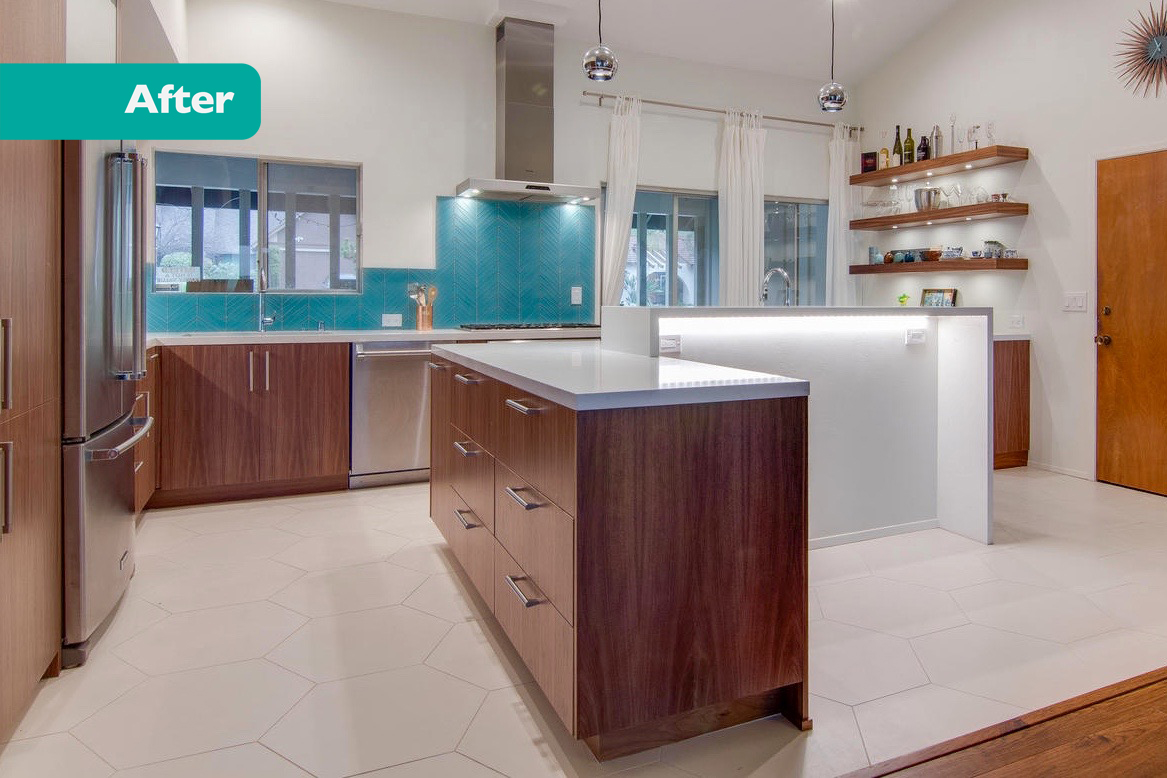 "Ashley and I were brought together by a kitchen & dining room remodel in University City. Often the combination of design-builder and designer breeds a power struggle that is hard to manage as differences in design, construction, and management styles clash. In this case, Ashley and I started working together like we had been successful partners for years.

Ashley is a designer who puts the customer first and works as a team with all parties. A designer like that is very hard to find. Experience and a style beyond their vision are what clients pay for. Ashley has this in spades along with the practical knowledge of construction that makes her invaluable to the contractor. I typically have to spend a lot of time changing a designer's drawings so it can be built. Ashley was always a step ahead of me, she made my job easy.

Ashley is a diamond in the rough kind of designer. I look forward to our next project."
KERRY TAYLOR
Contractor, San Diego, CA
"Ashley is easy to communicate with and she has an excellent understanding of the structural elements of a renovation. She is an excellent liaison to the general contractor.

We hired Ashley to redesign our kitchen, and she created a design that made the best use of space and hewed to the midcentury style of the rest of the house. She led us through the most confusing parts of the process, like finding us a structural engineer and getting our project properly permitted.

It's great to work with someone who has an eye for design but also has the expertise and experience to handle the "unsexy side" of renovation at the same time.

Ashley was also very good at working within our budget. She understood our priorities and "must-haves," then helped us figure out where to spend and where we could save."
MAGGIE FRANK-HSU
Homeowner, San Diego, CA
ASHLEY'S NOTES
PRIORITIES
The client bought this house with the intention of renovating. The outdated, 70's era kitchen was cramped with low ceilings and terrible lighting. It was closed off from the rest of the house.
As the heart of the home, we wanted the kitchen to feel open and inviting. The client wanted the space and flexibility to entertain groups of friends but to also have family time on a quiet Sunday morning. They were very clear about what style they wanted: pure and bright midcentury modern.
WORK
The kitchen was gutted and the attic was demolished to vault the kitchen ceiling. Two walls were removed to create an open concept floor plan flowing from the kitchen to the dining room. New light fixtures, flooring, and furniture in the dining room provided the final touches.
MY FAVORITE DETAIL
The bright turquoise backsplash really makes the kitchen pop. The client spotted it at a tile store we visited and immediately fell in love. It was a little beyond budget, so we found bargains on other materials to make it happen.
Is your kitchen stuck in the last century? Need a remodel or just a facelift?